CAMP PHOTO PROGRAM
HOW IT WORKS: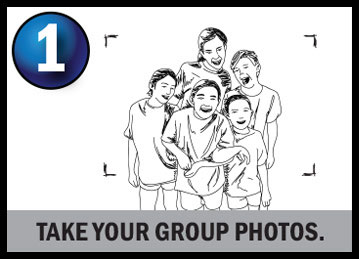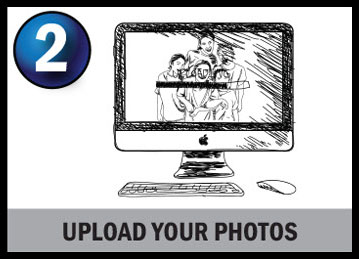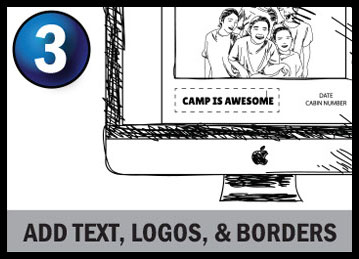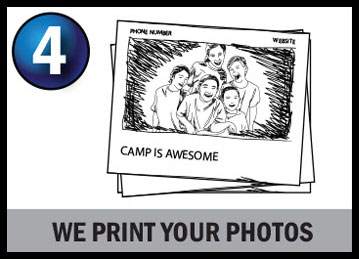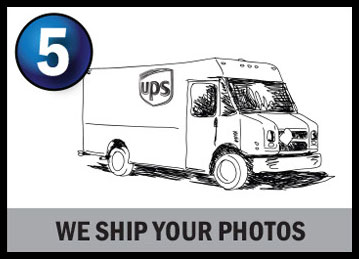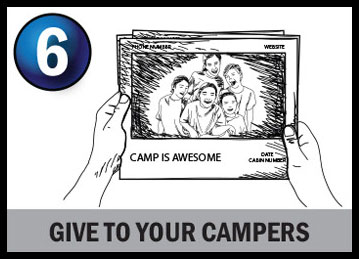 Once enrolled simply upload your photos and add text using our simple on-line editor. We print your photos and you receive them as early as the next day.
PRICING:
We offer discounts when you order a photo for every camper. Not just on group photos, but on other products as well. We have 2 different pricing groups for camp photos.
SHIPPING: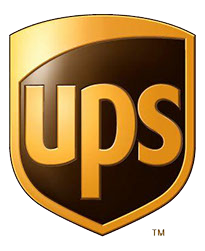 2 DAY DELIVERY when your order exceeds 40 photos*. Free 2 day Air Shipping (Order Monday by 2pm and Photos arrive at camp by Wednesday), your order must be placed on a business day before 2:00pm Arizona time.The cut off time for orders to ship the same day you upload and order is: 5 pm Eastern Time, 4 pm Central Time, 3 pm Mountain Time and 2pm Pacific time zone.
*$30 shipping for all camp photo orders with less than 40 prints.
We can also mail your photos directly to each camper's home. Home delivery fee: ($2.25 for each photo).
PHOTO QUALITY:
Free image enhancement and professional color correction.

No need to hire a professional photographer/editor. Just take the photos on a nice camera, make sure everyone is smiling, upload it, and we'll take care of the rest.


PHOTO BORDERS:

We offer a variety of Stock Photo Borders that we can customize for your camp at no charge. You pick a template, we add the requested logos/text to the template, then make it available on your account.

For an additional fee we can design a Custom Photo Border just for your camp. Or if you have a graphic designer on staff you can design your own.

BENEFITS: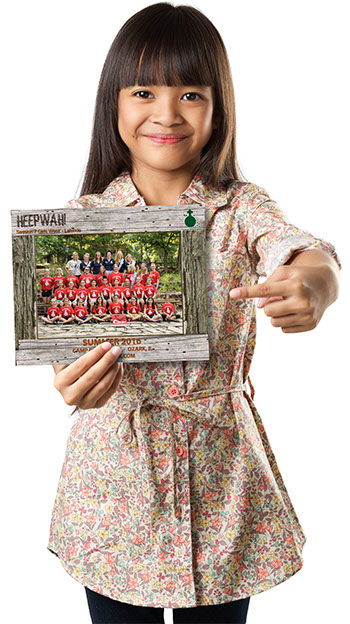 • Kids go home with a memorable photo of camp.

• By integrating your website and contact information in to your photo border. Each photo becomes a flyer that campers will never throw away.

• Adding your camp calendar to the backside of a double sided photo, allows you to promote events and encourage parents to enroll their kids throughout the year.

• When the kids bring home a group photo it shows the parents how much fun the child had in camp with his/her friends, increasing the likelihood that they will enroll again next year.

ENROLLMENT:
Select the photo product you want to use (photo vs photo-bookmark) and decide if you want to purchase a photo for every camper or just some campers.

Select one of our free
stock borders
, or you can design your own custom border.
Once you have decided on step 1 and 2, complete our
enrollment form
, which provides us with information on getting your account setup for summer. Account setup takes a little bit of time, so please enroll as soon as possible.
Once your account is set up we will email you login information. From there it's as simple as logging on, uploading your photos, and selecting the quantity of each. They get dropped off on your doorstep as early as the next day.

Testimonials:
"We think memories are worth documenting and Group Imaging has been helping us do that for a number of years (Before digital when real film was used)! While capturing the photo with 200+ campers is a challenge, they all cherish the end result which is a clear, quality photo bordered with the theme of the summer. Group Imaging has a superior turnaround time and the online submission is even easier. They are quick to respond to any need. We are very grateful for the partnership we have found in them to provide our campers with captured memories!"
Phyllis Bornemann
Director of Operations & Marketing
Lake Aurora Christian Camp
"Jumonville has been using Group Imaging for decades and they are great to work with. We do our camp photos with them and have also had multiple sets of promotional displays that we use for camp fairs and booths at Christian concerts. Other vendors always want to know where we got our promotional displays and I freely share the information on Group Imaging. We have also have multiple large banners printed and again the work is exceptional and at a really great price. We have also had calendars printed. The staff are always very supportive and responsive to any questions that we have. I give them an 11 on a scale of 1 to 10. Every product that they make is top notch."
Larry Beatty
President
Jumonville Camp
"For more than 10 years, our photo printing needs have been extraordinarily met by the friendly folks at Group Imaging. With so many other things keeping me occupied each week during Summer Camp, it's great peace of mind knowing that our weekly cabin group photos are taken care of! Thanks Group Imaging!"
Chris Aderhold
Assistant Director
Camp Gray
"We have been using Group Imaging for over 20 years and they are fantastic to work with. They produce qualityphotos with incredibly prompt delivery on every order."
Amanda Macaluso
Camp Hayo-Went-Ha
"There's never any doubt that Group Imaging will be the company we go to for our summer camp photos. The staff is always willing to take the time to help, are always very professional and always make sure that our photos arrive on time. It is a joy to work with a company that always goes the extra mile to make our job easier."
Linda Lehmann
Camp Lone Star
La Grange, Texas
Group Imaging has provided Camp Lou Henry Hoover with quality photos for over the past decade! The process of ordering is easy, the staff are responsive and helpful whenever needed and they never miss a delivery date. Our campers and staff love the custom borders and going home with a remembrance of their camp stay!
Deb Hooker
Camp Director
Girl Scouts Heart of New Jersey